New Release:
The E book "New Applications for the Osho Zen Tarot" is available NOW. If you are interested, please contact: donna@ma-donna.nl.
This book offers a wealth of opportunities for different life- and coach situations. 24 worked out layout are presented:
*Layouts for your personal development *Layouts for Coaching *Relationships layouts * Layouts for spiritual development. Next to this Zen insights and clarifying stories are breaded in the text. This delivers many insightful and pleasant hours to you while working with the Osho Zen Tarot. Price 18,- €, easy payment bij Paypal. For ordering, contact: donna@ma-donna.nl.
The special of the Osho Zen Tarot
On this page Osho Zen Tarot english we conclude that there are so many tarot decks. What makes the Osho Zen Tarot deck so special? These cards are not only beautifully illustrated but always give a positive guide to move forward in your life. You get insights about your situation in the 'here and now', about things that you have tucked away or to which you didn't pay any attention: a so-called blind spot.
 'Osho Zen Tarot english': the cards are pure Mirrors
The Osho Zen Tarot english cards are pure mirrors and they will always have something to say. People again and again are surprised how striking the reflection is of what is happening in their lives. A single card already is very significant and almost everyone gets a hint from it to get more out of his or her life. But Osho Zen Tarot layouts, which illuminate different sides of a situation and can be interpreted next, obviously offer you much more. And that can be realised by the courses and workshops that I offer in which in a variety of ways you learn to work with the Osho Zen Tarot.
Because the Osho Zen Tarot cards have very beautiful colors and carry contemporary images, it is very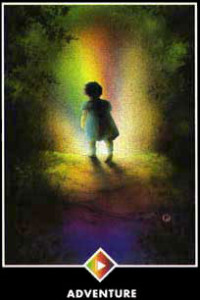 pleasant to spend your time with them. Also the one who explains and interprets the cards, will pick up insights and enjoys their beauty. Working with the Osho Zen Tarot is an ongoing adventure of awareness.
The following film is a spontaneous recording of one of the Osho Zen Tarot workshops I offer each year during one of the Osho Festivals in Djoj in Rotterdam. Is not known beforehand who is going to participate in these workshops. People sometimes come later in because they had previous activities.
Currently the Osho Festivals annually take place in Osho Meditation Center Wajid in The Hague.
There are different possibilities to participate in Osho Zen Tarot courses, also by e mail.
In the Agenda you will find actual course data.