Course options for the Osho Zen Tarot: Start with Basics
In the Basic Course Osho Zen Tarot, including 3 workshops, you can learn how to work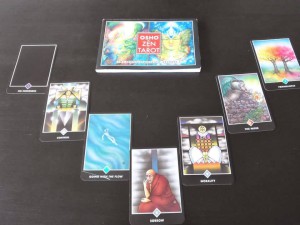 with the Osho Zen Tarot. An explanation is given about the structure and functioning of the Osho Zen Tarot. Furthermore, the Major Arcana is on the agenda, which includes the 'Spiritual Journey' of man. And the Minor Arcana is discussed which refers to 'psychosocial mechanisms in life'. Besides the growth in awareness we also have an everyday life with friends, colleagues and other people indeed.
Particular cards of the Major Arcana are explained as far as their specific symb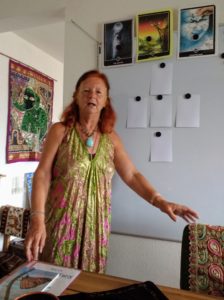 olism concerns. And also special Minor Arcana cards including a story or which have a specific usefulness, are discussed. Next to this, it is a celebration to discover the way you receive so many more insights by working with a card layout. Therefore a number of patterns are discussed, demonstrated and interpreted and based on this the students themselves get to work. During the entire course the book 'Coaching with the Osho Zen Tarot' is an important guide and an excellent desk book. Therefore, it is inextricably linked with this class. Each workshop contains a small part of meditation that will be different for every lesson. The Basic Osho Zen Tarot Class and/or its components are regularly offered in: The Hague and Groningen.
Program of the Basic course Osho Zen Tarot:
Workshop 1 Structure and functioning of the Osho Zen Tarot, Major Arcana en Minor Arcana, working with separate cards and an introduction of the Diamond layout.
 Worksop 2  Explaining the layouts usable for questions in the individual's life and the interpretation of it, like the Diamond, the Flying Bird, the Flow.
 Workshop 3 Discussing of Relationship layouts and their interpretation, like the short method and the Tao Relation layout.
The Price of the Basic Course Osho Zen Tarot  € 140,- including the boek "Coaching with the Osho Zen Tarot"
This course includes a certificate after full completion.
For Follow up you can choose from 2 Advanced Follow up Osho Zen Tarot courses:
Follow up Coaching voor de Osho Zen Tarot
Follow up Psychology and Osho Zen Tarot
Up to date course data you will find in the Agenda.