Welcome at Home English of  the website of Ma Donna!
NEW!! The E book "New Applications for the Osho Zen Tarot" is available NOW. If you are interested, please contact: donna@ma-donna.nl.
This book offers a wealth of opportunities for different life- and coach situations. 24 worked out layout are presented: *Layouts for your personal development *Layouts for Coaching *Relationships layouts * Layouts for spiritual development. Next to this Zen insights and clarifying stories are breaded in the text. This delivers many insightful and pleasant hours to you while working with the Osho Zen Tarot. read more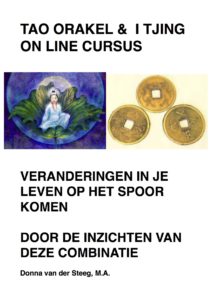 *new: On line course Tao Oracle and I Ching, participating any moment, 8 lessons to learn applying the subtle Tao Oracle deck …. read more
Home Page
This is the 'Home English' page of Ma Donna. On this website I present my activities condensed in the name 'Donna Consulting, Courses and Workshops'. Within its framework I organise growing possibilities and developmental options concerning: Psychology, Coaching, Osho Zen Tarot, Tao Oracle and I Ching and Meditation, for the benefit of individuals as well as of professionals.
Donna van der Steeg m.a. contact
By the links underneath the pictures you will move ahead on Home English:
Many Thanks to webmaster/webdesigner Adheera Westerman for supra fast coaching and support
The copyright of the Osho Zen Tarot kaarten is in the hands of Osho International New York